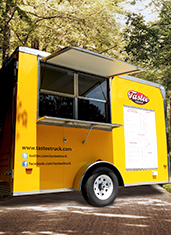 Cold sweats. Unexplained convulsions. Nap-drooling when you're not even napping.
These are withdrawal symptoms.
And should you find yourself with any of them, you may be suffering from a rare but critical condition known as Not Having Had Grilled Cheese in a While.
No worries though, we found the cure.
It's in a truck...
Behold
Tastee Truck
, the city's first and only grilled cheese truck and easily the most crucial addition to our existing fleet of four-wheeled eateries, now rolling through Buckhead and beyond.
Kind of makes you wonder where they were on that one all this time. All those food trucks and the biggest no-brainer of them all... unacceptably absent. Oh well, it's here now and that's all that matters.
So for starters, you can expect cheese sightings on Friday at the Howell Mill Food Park and again at the L5P Halloween parade this weekend. But of particular interest: they'll be posting up in Buckhead into the wee hours of the night on a regular basis.
Which means that
your Frank Poncherello
(every grilled cheese is named after an old-school TV or movie character) with jalapeño havarti and habanero mac and cheese will be there to play cleanup after last call. Or better yet, customize your own—think gruyère on wheat loaded with anything from pulled pork and thick-cut bacon to chorizo and mac and cheese.
And before you ask, yes, they even serve shots (as in little shot glasses) of tomato soup.
And just like that, the soup back was born.