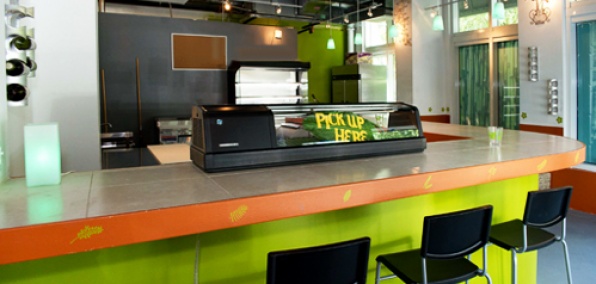 Downtown.
A complex urban wilderness where you can grab a quick lunch with colleagues, have drinks with a few friends and squire away a third date for an intimate rendezvous.
Good news: we've found a place good for all of the above.
Introducing Banana & Leaf, a modest new dojo for sushi, sake and teriyaki, opening for lunch tomorrow.
The joint is run by the folks behind Little Lotus, and you'll be pleased to know they share the same kitchen team (headed by a sushi alum from Morimoto) and that same low-key charm (no giant Buddha statues or flat-screens here). The place is small—just a handful of tables and a wraparound bar—but the vibrant walls and Japanese murals should provide the pick-me-up you need for a quick midday lunch.
After work, you'll come in with some friends for carafes of milky nigori sake, and make your way through a parade of rolls like the Miami Heat (snow crab, avocado, squid). But later on in the evenings, this will be your casual go-to when you're with a date who's in the mood for Japanese beers and nontraditional maki.
You love a date who's up for something nontraditional.