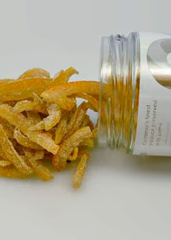 Two weeks from today: a big day for candy.
Today: a big day for wine-enhanced candy.
Because we're introducing you to
Wild Fennel Candied Valencia Orange Rinds
, possibly the only candy on earth made in part by using old wine barrels, available now.
Here's what you need to know. The candied orange rinds are produced by a gourmet jam maker in Southern California who sources the citrus from a family farm near Santa Barbara. The bright peels are coated with a fennel syrup and then tossed in sugar.
Now, we won't get too deep into the science involved, but here goes: during the candying process, the cook uses a bit of the fermented residue off the insides of wine barrels to make the gummies. The wine used here: a 2010 syrah from a farm in the Sierra Nevada Foothills. The result: a tart, slightly sweet, anise-scented treat.
It's obvious when you'd use this. Actually, it's not, so here are some suggestions: a thank-you gift for a flirtatious sommelier. Nosh for the next time you're entertaining Paul Giamatti and Thomas Haden Church. Or because Halloween is coming up, you'll want to keep a stash on hand for your annual post-Vizcaya costume gala after-party.
You should probably stock up on wine, too.