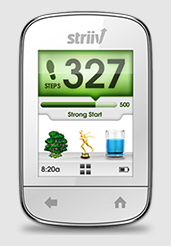 Don't be concerned, but we were watching you this morning.
Yep. Totally spotted you on your morning jog.
And while we applaud the early-morning effort, we noticed your form was a bit off.
You weren't donating any clean water to impoverished children in South America while you ran...
Enter the next big thing in do-gooder technology,
Striiv
—a tiny pedometer(ish) device that attaches to your keychain and helps save the planet in the process, available now.
At first blush, you may be tempted to call this thing a pedometer. Actually, that's fine... it pretty much is. But scratch the surface a bit, and you'll find a few ulterior motives (the good kind) in play here.
So your inner humanitarian (those Martinis for a Better Tomorrow weren't going to drink themselves) will be happy to hear that for each step you log on this thing, Striiv and a charity outfit called GlobalGiving will donate money toward things like providing clean water to third-world families and giving polio vaccines to kids in India.
And while you'll find some games on the little device as well, unless you're into filling enchanted lands with exotic plants and wildlife based on your movement, you might be better off sticking with the passive-philanthropy shtick on this one.
And if this happens to find its way onto your bedpost...