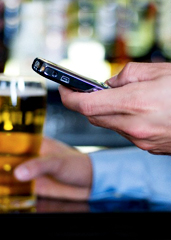 Information is power. And if there's one thing you thirst for, well, let's say power is right up there.
Right behind an icy cold one.
So we present
BeerFridge
, a frighteningly meticulous iPhone app for tracking your personal beer supply at all times.
The metrics this thing can filter are ridiculous: Beer name. Brewery. Style. Year. Number of bottles. The ABV. Yes, we said ABV. You'll buy beer and input the info. Drink it. Rate it on a scale of one to five frothy mugs, the international symbol of beer quality.
Sure, it will take a bit of data entry (another reason you should only scout interns at Oktoberfest), but the benefits are worth it. When you're thinking about hosting a bit of post-club entertaining at your house, check your supply: heavy on the local stuff, iffy on the Slovenian microbrews, but your weiss collection is completely devastated. (Hiring interns at Oktoberfest has some downsides.) Fortunately, you see that you have a backup keg of witbier in storage. After-party saved.
One warning: a good hacker with access to your phone could lay bare your love of weird Belgian blondes.
Plus, all that info you put in about the beer.