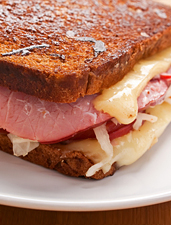 Let's talk turkey.
No, actually: let's talk corned beef.
We assume you're all right with that.
Especially when it means you'll soon be demolishing
Zingerman's Reuben Sandwich Kit
, a mail-order package of meat, cheese, bread and happiness, available now.
A brief education on Zingerman's: they're a legendary Jewish deli and bakery in that great world deli capital of... Ann Arbor. And they correctly presume that you could use a decent sandwich... one day from today.
Now, we know you pretty well—well enough to know your sandwich lust knows no bounds. So there's no skimping here. It's a massive helping of stackable corned beef, Swiss cheese, coleslaw, Russian dressing, potato salad, garlic pickles... (pause for breath)... two loaves of soft Jewish rye bread and, of course, brownie bites.
We picture you using this to win the office lunch championships, or maybe sharing with a few other people (you're a giver). First, they'll overnight it all to you (expect a sleepless night before). Then, you'll heat up the corned beef and slice some bread. At that point, the hard work element is over. From there, you'll just stack things until you can stack no more. Then you'll stack a little more. Then you'll just stand back and stare for a moment.
There's no shame in joy-crying.