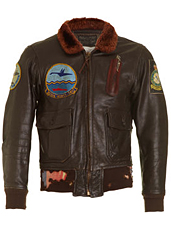 You're a lover, not a fighter.
Still, sometimes it's important (crowded subway, hostile boardroom) to give off the impression that you know your way around a Sherman tank.
The hard way: tattoo Semper Fi on your arm.
The easy way: update your wardrobe.
Start here:
Scout Original
, a rough-and-tumble collection of vintage military/work gear that's been painted, patched and meticulously messed with in some unexpected ways, available online now and on the fourth floor of Barneys.
Brought to you by a family of RRL alumni (they've also designed a tattoo or two in their day), these are the kind of rugged, hand-assembled duds you'd layer on before heading to a rock concert, staging a remake of
Stripes
or strolling through an active war zone. Wall Street, perhaps.
Many of the one-off, WWII-era pieces in this line—waxed cotton parkas, wool rib scarves and GI rucksacks—got their start in the Marine Corps before finding their way to these guys. Which is when they got painted with polka dots and flying pegasuses, patched with Baja blankets and stitched with Morse code.
But before you head out on a tour of duty with your WWII-era bomber jacket or denim coverall, check the pockets. There's likely to be a vintage trinket (old playing card, antique lighter) tucked inside.
Two can play at this game, Cracker Jack.