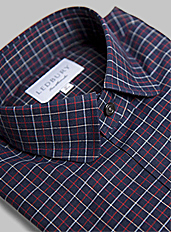 The Holeman & Finch burger.
You love the thing.
Every night at the stroke of 10, no more and no less than 24 coveted beef circles are offered up for your highly anticipated amusement. Show up one second too late... gone.
Now picture that, only with button-downs...
Introducing
Short Run Shirting
, a semi-experimental collection of limited-edition, weekly-rotating button-downs from the Southern gents at Ledbury, accepting online orders now for this week's handpicked torso candy.
One shirt. One week. One chance.
That's the long and the short of it. But now, some Cliff's Notes on this Ledbury outfit: once upon a time, two guys from the Southeast named Paul and Paul (nice) moved to London and learned everything they know about custom shirting on Savile Row. Then they moved back to make your closet a better place.
The end.
Except not the end. Because now, in addition to their everyday ginghams, chambrays and French cuff tuxedo shirts (all they do is button-downs), they're throwing a little wild card in the mix.
Each week, from 11am Tuesday until 11:59pm Sunday, they'll be rolling out one "small-batch" number for your perusal. This week, the
Blue Roosevelt Slim Fit
—an Italian flannel twill perfect for those whiskey-backed marshmallow-roasting marathons, your annual leaf-burning gala or tossing a football around on a crisp Sunday afternoon.
Or watching the Falcons toss a football around on a crisp Sunday afternoon.