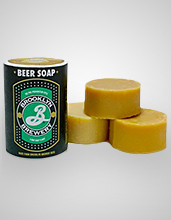 If there's been one constant in your adult life, it's been beer (bacon is a close second).
It's been your friend through thick and thin. It's counseled you late at night. And then last year, you began
cleaning with it
.
Today is no different. You've just got more options.
Presenting
Brooklyn Brewery Beer Soap
, which takes your love of that beer-y clean feeling and adds a beer-flight element, available now.
We've come a long way as a species, and as far as we can tell, next to Manifest Destiny and civil rights, beer soap is one of those high-water marks that future civilizations (and potentially alien civilizations) will look back on and say, "Well done."
And when they realize we saw the potential of beer to make a good soap (all the natural acids and B vitamins are beneficial for hair and skin), and then we took the next step and made a
flight
of beer soaps, well, let's just say there will be some kind of statue about it (or at least a hologram of one).
To be more specific: you'll now have the option of cleaning yourself each morning with a two-ounce bar of lager soap, a brown ale soap or a black chocolate stout soap.
Also known as the John Lackey three-pack.