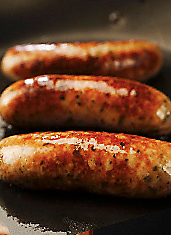 Well, another Oktoberfest has come and gone.
Your stein: empty. Your lederhosen: at the cleaners. Your schnitzel: you have no schnitzel.
But somewhere—call it Henderson Avenue—the beautiful dream rages on...
Meet
The BratHaus
, a late-night food cart serving up smoked brats on Henderson, taking orders every Friday and Saturday night outside of the Slip Inn.
Sure, this might look like your standard hot dog cart (stainless steel frame, colorful umbrella). And actually, that's exactly what it is. But the gurus behind this thing—they pose as a lawyer, a realtor and a financial analyst by day—collaborated with an Austrian bratwurst factory to develop six special sausage concoctions. Spoiler alert: one's
filled with Swiss and cheddar cheeses
.
So one night soon—call it this Friday—you'll be slipping out of the Beauty Bar, say, when you'll catch the aroma of smoked brats and paprika. Follow that scent. It will lead you to the parking lot of the Slip Inn. Play it cool. Then order up
The Bird
(a chicken brat with jalapeños), or maybe the cart's hottest option:
The Incinerator
(pork and beef sausage with habanero peppers).
This may be a bad time to tell you they don't have water.