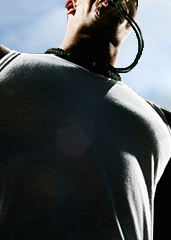 You're a great all-around athlete.
Your tennis serve: fierce. Your boxing footwork: nimble. Your wrestling persona: colorful. But to stay truly sharp, you could use some advice from the experts.
Guys like Ted Williams. Or failing that, Andy Roddick and Hulk Hogan.
Presenting
Get in the Game
, a new iPhone app that features video demonstrations from actual professional athletes, available now.
So: it's Sparring Day at the office (call it team-building... by way of boxing). You've got the headgear, the mouth guard and the Tyson-in-his-prime shorts. What you don't have is a solid hook (yet).
Enter this app. You'll download it, then select Roy Jones Jr. as your mobile coach and watch a few demo videos. If you like what you see, you'll download all his coaching videos—which take you through proper warm-ups, footwork and, yes, how to throw a killer hook—for $4.99. (Giant slab of ribs: sold separately.)
And since this winter your office calendar is peppered with Tennis Day, Home Run Derby Day and WWF Day (it's a very competitive office), you'll be happy to hear they also have coaching experts for tennis (Andy Roddick), baseball (A-Rod) and even wrestling (Hulk Hogan).
Nobody's beating you on Rip Your Shirt Off Day.