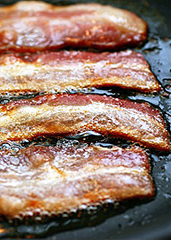 You always know when to say when. But on occasion, "when" doesn't come for quite a while.
We sense that one of those times is approaching.
So you'll be pleased to hear about an entire week of bacon. It's called... the
Week o' Bacon
, and it starts this Thursday at 3 Bar & Grill in Clarendon.
Now, you may have heard about the chef here, who's one of the foremost practitioners of the bacon-y arts. Well, this is his annual opus.
Here's how we see your week unfolding, as you beat a path to Clarendon:
Thursday: things get started with a patio pig roast and craft beer specials.
Friday: you submit to the
bacon tasting menu
, which gets you
Bacon
Noodle Soup
,
Bacon-Crusted Chicken Wings
and pork loin wrapped in pulled pork and—dear God—bacon.
Sunday: bacon brunch cures your bacon hangover with bacon Bloody Marys and the
GraceLand Waffle
(studded with bacon, topped with caramelized bananas). Then you stick around for the chef's bacon-curing class, where he'll walk you through his methods and give you tastings from his bacon cellar (yes, that's right).
And because the chef is feeling charitable, the Week o' Bacon actually gets you 10 days of salty goodness. Which should give you a chance to head back for the daily bacon happy hour: think bar bites like bacon-dusted chips with bacon cheese dip and bacon-infused vodka martinis.
We hear they go well with bacon.