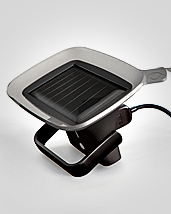 Italy. Turkey. Japan. Australia.
Every week you're on the go. One plane to the next (luckily, they're both yours).
With you as always: your phone. Not with you always: a power source that doesn't require all those different adapters.
Thus, it's high time to harness the sun.
Presenting the
Ray,
a new universal power charger that connects to your electronic devices via USB port for channeling the sun into texting fuel, available for presale now.
We're pretty sure you know what solar force is all about (it is, after all, how Superman gets his power). So we'll bypass the science lecture and just say this: when positioned toward the sun, this little guy can take solar juice and turn it into a full battery charge for your phone. It even has suction cups so you can attach it to a window (you try to keep it hands-free when you're driving through Belize).
And since it connects to your stuff via USB port, you can also use it for your iPads, cameras or the rogue Kindle.
No, it won't work on you during hangover mornings.