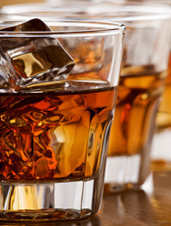 Essence of rosewater foam. Thrice-oxygenated Moroccan salt air. House-striped straws.
Drinks are getting a little fussy these days. Especially when you want something pretty simple:
Scotch. Neat. Thanks.
Time to pay a visit to
Neat
—a simple, stripped-down drinking den from one of LA's top cocktail guys, opening Saturday on a quiet patch of Glendale road.
It's all pretty streamlined here—bar down the right, some high leather-topped tables down the left. (Bring a date to one by the fireplace halfway down.) When you order at the counter, you'll get one glass with two ounces of liquor and a second larger glass with your mixer, both slid toward you on a palette. Just pour 'em together and enjoy. Repeat as necessary.
And as for the spirit part, proprietor Aidan Demarest (he's been your drink guy at the Edison and
the Spare Room
, among many others) has about 200 whiskeys, gins, tequilas and rums, from the usual suspects to Boudier gin (there's saffron in it) and a nice little stash of armagnacs. (Think cognac but whiskey-er.)
The idea is to focus on the good stuff, so there's no fancy cocktail menu—except when there is. His esteemed barkeep friends will occasionally play host with some specials.
In this case, you'll allow it.