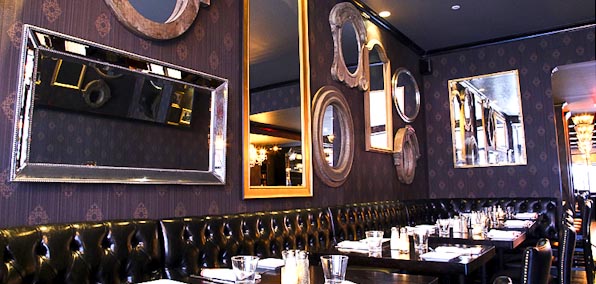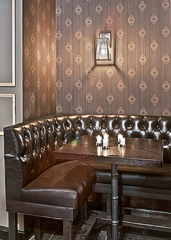 Let's examine the current mix on Wall Street.
61%:
wistfully overconfident bankers
27%:
bearded protesters
7%:
bored police officers
4.99%:
clean-shaven protesters
0.01%:
Maria Bartiromo
And the trick to keeping the peace... ricotta meatballs and playoff baseball.
Welcome to
The Fulton
, a 4,300-square-foot gastropub where the menu looks like it's from a steakhouse and the flat-screens are invisible (except when they're not), opening Saturday in FiDi.
This place feels like a long-lost executive's lounge from the 1920s. There are diamond-tufted leather banquettes everywhere. Herringbone wood walls. Hanger steak frites. Old framed photos of Fulton Street (circa horse-and-buggy era). And a slew of cracking antique mirrors... that happen to conceal 35 state-of-the-art invisible plasmas.
So when a game isn't on, and the TVs are off, every set will be hidden behind two-way glass. Perfect for when you want to quietly sip on a
Ginger Inn
(that's vodka with guava, lime, raspberry and ginger) while splitting short ribs and cheddar grits with that comely market analyst.
On Sundays: you'll switch from a corner booth to the marble-trim bar. Set yourself up with a line of lobster sliders and a cold Goose Island draft. On Super Bowl Sundays: use a secret elevator entrance to reach the chef's private wine cellar, where you'll control both the menu and the remote.
Nobody works a "last channel" button like you.