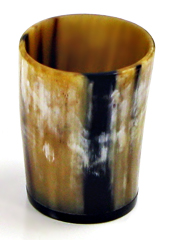 So picture it.
Your love interest's parents are in town and you're hosting dinner at your place. Everything's set (Bourdain pitched in with the cooking) and Mom's engrossed in your abstract photography collection (pixelated nudes—a big hit).
Which leaves Mr. Dad. Sort of a hard-to-please, Stellan Skarsgård Nordic type. So you break out the good stuff: an 18-year single malt scotch.
And then you rock his world.
With these:
Stay Sharp Horn Whiskey Tumblers,
the handsomest polished horn cups to grace your home bar, available for preorder now.
Consider these a refined take on a medieval classic. But instead of going full-on Viking by drinking out of a hollowed-out horn, you'll be sipping your whiskey of choice from stout vessels made of African cattle horn that have been polished to a glossy finish. And for additional dapper effect, the bottoms are engraved with the motto "Stay Sharp." (Your best mottoes have been gleaned from cup bottoms.)
And if you're concerned that these are produced by a band of rogue bull wranglers—rest assured, they are from a NYC-based company that specializes in random items of ruggedness like axes, hatchets, camping goods and a mushroom knife with a brush made of wild boar's hair.
No one knows camping like Manhattanites.