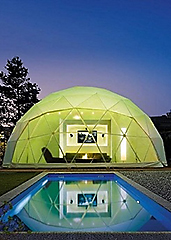 Just yesterday we brought up the matter of camping, and the kind of
next-generation equipment
at your disposal.
Then we looked at the dreary weather outside, and realized you're also going to need a new form of lodging while braving the wilderness.
Like a yurt, let's say. Made with BMW levels of engineering.
And here it is:
the
Zendome
, a high-luxury, German-made yurt-dome, available online now.
This is basically the kind of all-purpose outdoor domicile that would result if Walt Disney's equally-as-talented cousin from Berlin and Philip K. Dick got together to design a futuristic yurt-tent-thingy (we hear that was its original name).
But make no mistake: this hut is large. It uses 161 poles and junction discs to create a floor space of over 300 square feet (translation: you could toss a party in here).
It's also modular, which means if your friends got their own Zendomes, you could connect them all together, igloo-village-style, to make a dome compound (three words: holiday office party).
And you'll be happy to hear the outer membrane covering is made using all-purpose material created by Ferrari.
Feel free to park your actual Ferrari inside it.