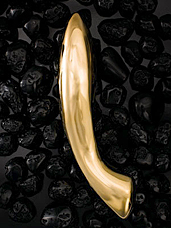 Just some huge news out of the tech world...
You've probably heard.
Touch technology. Uncanny communion with a mysterious woman. People just absolutely begging for it.
Oh, and the new iPhone is coming out, too...
But our concern is
SenseMotion
, a new line of remote-controlled pleasure products you'll gently guide with a flick of your wrist, available now.
It's important you know how this works, so here it is. You've got two objects: a controller and a massager. Let's say you've got the controller. In one mode, you'll tilt it horizontally to increase intensity and flatten it out to decrease. In the other mode, you'll rotate or sweep it back and forth for varied intensity. (Whichever way you think will be most... effective.)
Now, your right brain has probably already drifted to wondering about the range of this thing. Your answer: 39 feet. Also: it's waterproof (we're just going to bite our tongues on that one). So when you've set the proper romantic mood lighting and put on some Marvin Gaye, she'll be gracefully floating in a pool 27 feet away, giving you the thumbs-up. Then, you'll tilt your hand ever so gently and bask in the satisfying glow of pleasure-giving.
You know, for people who are into this kind of thing.