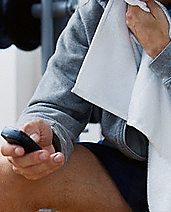 The stretching. The running. The lifting. The spandex.
But enough about your in-development Robin Hood musical, let's talk exercise.
Meet
Fleetly
, an iPhone app that turns your workout routine into an
Angry Birds
–style game, available now.
If the Mario Bros. and Richard Simmons created an exercise app, it would look a bit like this. (We hear Luigi loved coding.) You log your workouts and get points and badges for completing exercises or reaching milestones. (Yes, finishing the Tour de France is considered a milestone.)
So let's say, hypothetically, that your Halloween costume requires a loincloth. (We know: again.) A little extra abs work probably wouldn't hurt. You'll download this, then set your fitness level and your training intensity (everything from "couch-tastic" to "borderline scary"), and go to town.
Meaning: jog. Do some push-ups. Hell, even dance a little. You can track it all in the app—and with each crunch, you'll earn points and badges, which you'll use against your rivals (aka anyone else using the app). To stay motivated, you can watch videos on new abs workouts, challenge those competitors to a 50-mile cycling race or switch it up by creating your own customized workout.
No, it won't create a training montage.