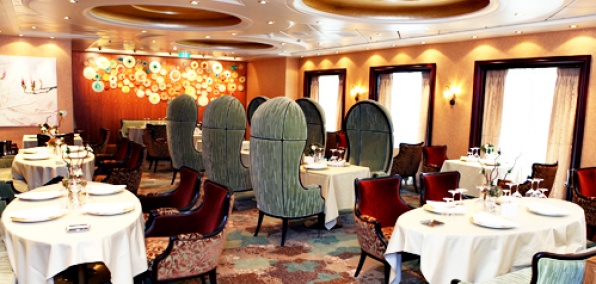 Cruises. Not really your thing.

But transport one of the city's best restaurants to a massive cruise ship, and that piña colada souvenir cup starts to look a little more exciting...

Say hello to Michael Schwartz at 150 Central Park, a new option for getting your Michael's Genuine fix at sea, taking reservations now for its launch later this month on the Oasis of the Seas.

The chef has commandeered the kitchen at the posh 150 Central Park, a tasting-menu-only dining room on the ship's idyllic tree-lined courtyard. So as you navigate the Caribbean you'll taste things that remind you of home (or the Design District): jumbo lump crab cake, roasted Harris Ranch beef short rib... that sort of thing.

Of course, you'll still have to navigate the usually dicey terrain of cruise-ville to get to this culinary wonderland. But your vessel is the tastefully done yet mammoth 5,400-passenger Oasis, one of the world's largest cruise ships. (Think Diddy's yacht. Times a bajillion.)

So in addition to all those intimate dinners, you'll also have your run of 22 pools (including 10 hot tubs), a couple of FlowRiders, dozens of bars, a casino and a hellishly taxing mini-golf course.

Don't spill your piña on your scorecard.