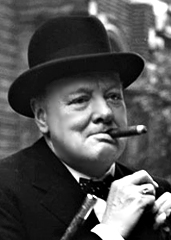 You've always fancied yourself a statesman. The pinstripes, the lapel pin, the oratory.
But one thing's been missing: the scent. You could do well to evoke the warm aroma of a Nixon, a Sadat, a Putin. Or not.
Maybe something more... Churchillian.
Say hello to
Penhaligon's Blenheim Bouquet
, your new Churchill-inspired cologne, available now at Sterling & Burke, the
British-minded leather goods shop
in Georgetown.
This stuff was created by one of England's oldest fragrance makers (and a perfumer to the royal court) in 1902, and named after the palace outside Oxford where Winston Churchill was born. Little surprise then that it became his favorite later in life (and, we hear, Prince William's even later than that).
On Sir Winston, no doubt, it would compete with his usual base notes of scotch and cigars. For your part, you can just open the Victorian-looking bottle and embrace its scents of citrus and lavender, with some subtle hints of black pepper, pine and musk. And should you need to drive your musky point home (maybe during a meeting at the British embassy), you can add on the matching soap, shaving cream, aftershave, even talcum powder.
Now, lest we strong-arm you into Churchill, you'll be pleased to know that the Georgetown shop carries Penhaligon's entire line, including—gift alert—Bluebell, the citrusy woman's scent said to have been favored by Princess Diana.
We'll assume she needed less than Churchill.