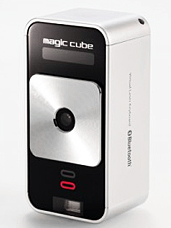 Gadget lust: you know it well.
It's why you bought that touchscreen leaf blower. And that laser-guided bowling ball.
You may have a problem. Or you may just need this...
Say hello to
Curisma
, a site to help you express your deepest tech gear desires (and maybe fulfill a few of them), officially launching today.
Think of it as a Pandora for gadgetry. It shows you a list of user-submitted gear—including some old favorites like a
wi-fi scale
and
art made from your DNA
—along with newer stuff like pads that let you text with your gloves on. (The scourge of cold texting fingers is very real.)
At that point, there's a link to where you can buy it—or you can claim whether you "want" the product. After a while (and this is where the Pandora-style part comes in), the site'll learn what kind of stuff you like and make you a list of recommendations, which you'll subtly include in a mass email to friends and relatives.
You'll also be able to grab a couple of products each week directly from them. First up: an MIT-designed alarm clock that rolls away until you turn it off (or hurl it through your window). Next week, another completely necessary item: the sweat-wicking dress shirt.
Your meetings often incorporate wind sprints.