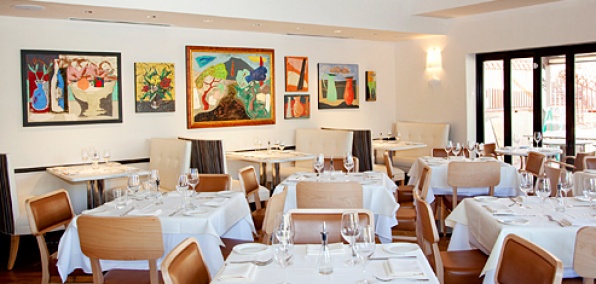 First off, great meeting today—we've never heard a standing ovation on a conference call before.

So loosen that tie, grab a couple martinis and enjoy the weekend. Then, come Monday, you'll have a nice little date spot waiting for you.

Presenting Bistro 31, a buttoned-up European bistro from the guys behind Taverna, opening Monday.

If your painter friend from Paris, your shoe guy from Milan and your coffee guy from both cities opened a restaurant, then you'd have this place.

It's a small white room covered with crystal chandeliers from Italy, one massive espresso machine and abstract paintings from a French artist with a penchant for putting naked women in the background of his work. (Don't they all...)

It has all the makings of a great first-date spot: white tablecloths, a wall of wines and lobster Bolognese. (First-date rule #48: always have the option of lobster.) But you could also find yourself here for lunch with your patent attorney (your cufflink flask: almost approved). That's when you'll slide into a white leather booth and take in some escargot as you talk about mass-producing those things.

Or come back next Saturday, when you and your fellow power brunchers will settle in under the patio arbor and round up some steak and eggs with a Bloody or sip one of the 20 coffee options.

We assume that's where the French and the Italians couldn't compromise.