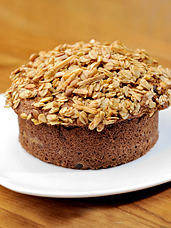 In order to do certain things, it helps if you're in the Department of Justice. Like carry tear gas. Have Leonardo DiCaprio play you in a movie. And (now we know, thanks to
last week's headlines
) spend $16 on a muffin.
Well, we can't help you with the tear gas (yet), but we do know where you can get a $16 muffin. And you'll want to bring a date.
So say hello to the
24K Jumbo Pumpkin Muffin
, an off-menu, limited-quantity muffin for two at Founding Farmers, available starting this Sunday brunch and every Sunday in October.
Now, this is not the kind of bacon-and-whiskey-laden creation we sometimes tell you about (don't tell the bacon). Nope, this is a bit more... wholesome, comprising 24 organic ingredients like cranberries, raisins and pumpkin seed granola. But being that it's Sunday brunch and all, this thing isn't without its indulgences—namely chocolate chips and cream cheese frosting filling.
We should also point out: it's huge. Big enough for you and your brunch date to split. And unlike the Justice Department's hotels, they'll even throw in the coffee—a two-person French press of Intelligentsia organic.
A side of bacon is up to you.