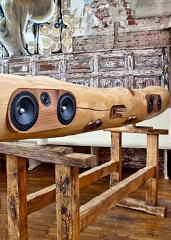 Since the dawn of man, trees have proven to be our friends.
They provide everything from shelter to fuel for heat, and as William Wallace proved, they make a hell of a weapon (see: spears).
And as it turns out, they can be fashioned into a pretty slick iPod docking station.
Introducing the
iTree
, a customizable iPod sound dock made from Austrian trees (no, that doesn't mean your music will be sung in German), available now.
This is the kind of iPod dock you'd probably find in the party suite within Robin Hood's treehouse manse: sleek, sexy and constructed from cherry, poplar and spruce trees found in the forests of Austria (chances they favor the sound of polka: fair).
To land one, first drop an email
here
. Then, after you've specified your tree type, you'll get into the specs with your craftsman (what imperfections you'll keep, where you'd like the speakers to be, speaker sizes).
You'll want to use this at parties to start conversations: "So there I was with my axe in Austria and I thought this would make a great stereo." It's also great if you're entertaining friends at your lake cabin and want something to match the rustic, woodsy theme.
Just don't position it too close to the fireplace.