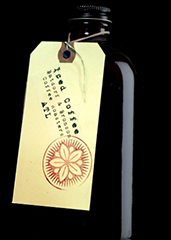 Let's make sure this morning never happens again.
You know, the part where you woke up, fell back asleep face-first in a bowl of Cocoa Krispies, realized you fell asleep and got so mad at yourself that you fell asleep again.
Not a good look for you.
Which is exactly why we're going to suggest a little preventive maintenance in the form of
Coffee Growlers
, 64 ounces of fresh-brewed salvation to go, available now for the first time ever in the city at Dancing Goats Coffee Bar.
It just doesn't get any more obvious than this. A giant jug of coffee that you can take home, stash in your office mini fridge/wet bar or bring along on your next road trip (you knew that growler holder you had installed in the console would come in handy).
Either way, it's yours to do with what you will. But to get this caffeine-y ball rolling, you'll need to head to Decatur and make nice with the Batdorf & Bronson–slinging baristas at Dancing Goats.
At which point they'll promptly fill your newly acquired vessel with a rotating cast of iced coffee ranging anywhere from Guatemala Antigua to their own blend of
Colombia Estrella Del Sur
.
Which is Coffee Geek for "better than what you were drinking before."