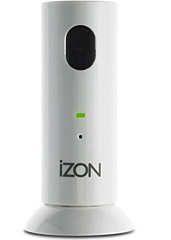 Your apartment.
A treasured den of next-generation electronics, priceless works of art (all originals, of course), stylish furniture, classic vinyl and many leather-bound first editions.
It's also a place you're rarely at (blame it on your social calendar). Thus, you need a way to keep an eye on the place.
We found it: the
iZON Remote Room Monitor
, an in-home security camera that streams right to your phone, available now.
Consider this the sleek, somewhat discreet digital watcher that you'll place wherever you want a secret set of eyes. Say, the bookshelf in the smoking room, or in a corner of the bedroom (you've long suspected your French maid has been napping on the job).
Once in position, you'll
download the free app
that streams the content right to your iPhone, iPod or iPad. The camera will turn on and begin recording if it senses any motion in its field of view, and you'll get a notification on your phone that it's caught the trail of something (it'll probably just be the cat, but still).
If you choose to record what the camera sees, it will capture 30-second intervals on your phone at the touch of a button, or you can send it to your private YouTube account to do the same.
Try to avoid any
American Pie
-esque mishaps.