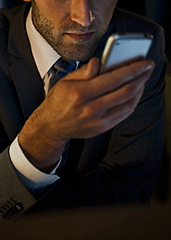 Some phone calls can't be missed.
The Academy with your nomination. The president with your birthday wishes. The pizza man who needs your gate code.
And to ensure you don't miss those calls:
SleepRinger
, an app that only lets the important calls through, available now for Android and BlackBerry phones.
It's like having a door guy for your phone, regulating who gets "ringtone privileges" while you're napping (or watching
Monday Night Football
). So say you're recovering from the weekend's festivities (you managed the pig roast
and
the All-Star bocce game), and you're in desperate need of some Z's before your week of carpe diem-ing.
That's when you'll need this. After downloading it, you'll program in those select contacts who can interrupt your sleep: Mom, Dad, Jerry (be sure to include his suite phone). Then enter in how long you need your phone to be on silent.
Then, as you fall asleep, the calls from your admin will go away. But after a few hours of shut-eye, your phone rings—it's your grandmother and she has an emergency.
She has a great idea for fixing the Cowboys' secondary.