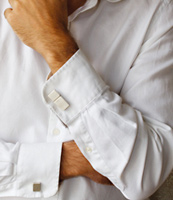 Storage spaces are not pretty.
They're just not. They're extremely functional—think hard drives and mini storage—but you can't do much with gray plastic. You can always use more though, so you might want to take a look at the latest in space-saving rule-breaking German gadget/jewelry.
Introducing 
USB Jewelry
, a collection of designer brushed steel flash drives that you wear on your wrist, your neck or your cuff.
The trinkets come from design powerhouse Tonia Welter and pack two gigs apiece, so you won't come up short on space whether it's for quarterly reports, incriminating snapshots or just keeping your cuffs together—and until you pull off the cover, no one will detect the technology lurking on your sleeve. In other words, your espionage skills just got quite a boost. You can also get them as a bracelet or necklace for your digitally inclined lady friends—because nothing says "daring yet sensitive man of mystery" like a diamond-studded silver-plated flash drive with her favorite StairMaster playlist on it. 
Of course, it's nothing that will offend your impeccable sense of style. The bracelets and cuff links come in a brushed or matte finish, or you can go the custom-made route, where the only limit is your imagination and your bankroll. Other ideas include engraving, inset gemstones and plating in gold, platinum or titanium so you can match the drive with your belt buckle.
Which may or may not double as a slide rule.