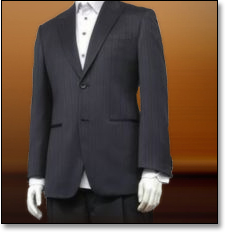 Here's what we picked up at one of our weekend barbecues: A lot of people are facing tough economic times.
This was news to us. But now that we have this information, we think you need to go on the attack, sartorially speaking. Nothing says "Downturn, what downturn?" like a crisp new suit.
And we have just the tailor:
Andrea Vangna
, opening today in the South Loop's Monadnock Building.
The second Chicago bespoke shop for the international brand, Andrea has the fabric, tailoring skills and European connections to outfit you in threads that communicate everything's jake. The process is quick and painless: You are sized up by one of Andrea's tape measure-wielding experts, who also takes down your fabric, cut and style preferences. These plans go to Andrea's tailors abroad, and you return in three to six weeks for a final fitting.
A bonus: Your wallet won't even feel it. Their custom shirts start at $80 (less than some of the graphic tees you've been seeing around town), and made-to-measure ensembles begin at $1,200. That includes Loro Piana fabric—the same material that sets you back $4,500 on Oak Street.
Which is a pretty good dividend in any financial time.