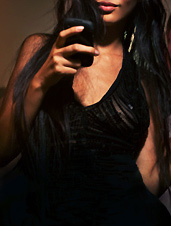 We're lovers. You know that. But every now and again, something comes across our desks that just seems... suspicious. Because of the tremendous material upside to all our lives if these claims pan out, we at times put ourselves in harm's way to investigate. Albeit skeptically.We call it: Skeptical Investigation. (Copyright pending.)
THE CLAIM

The social butterflies at
Blendr
say this app will forever change the late-night hookup—by showing all interested parties on a map on your phone. For an idea of the possibilities here, just know these are the same intrepid conquistadores who created Grindr... (Google it. Or maybe don't.)
THE INVESTIGATION

First, a little about the app: it gives you only the most crucial information about a person. We're talking, of course, about their interests (classic Russian literature, interpretive bullfighting, etc.), a headshot and—this is key—exactly how many feet away they are at the present time. From there, you can chat them, and if they're checked in somewhere, à la Foursquare, you can spot them on a map. And from there, well... you don't need us to tell you what to do.
So the experienced professionals at UD Labs found someone, totally randomly, eyes closed, and it happened to be an allegedly 23-year-old woman with what you might call favorable physical features. And an interest in "exercise." Then, our esteemed scientists exclaimed, "Hey, we like exercise," dropped some smoothness on her and convinced her to meet for coffee...
THE VERDICT

... Or not. She flaked. Maybe it's just too early in the game and people need some time to get comfortable with the idea of real-life encounters with GPS-toting strangers. Maybe by "Rebecca" she meant "Ralph." Or maybe the brave soldiers in the lab will just keep moving down the list.