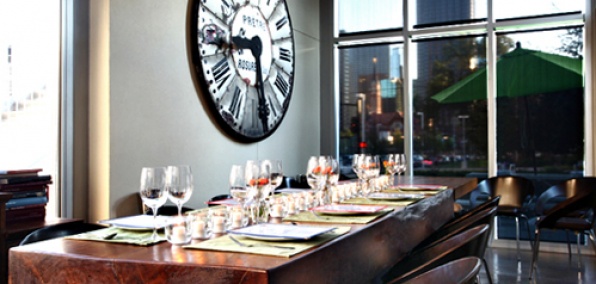 So, your late-night burger guy in One Arts. He's changed.
He's watching his figure. He's obsessed with gardening. We even heard he was taking guitar lessons.
Oh, and he's serving octopus... with apple pie.
Meet
One Art
, a 12-person restaurant within a restaurant, with a menu that changes daily, taking dinner reservations now for Tuesdays through Saturdays.
You're familiar with
the Commissary
and its chicken-fried burger drowning in gravy. Well, the chef, John, is rolling out a farm-to-table restaurant, and it's conveniently located right inside his burger joint—like
Inception
, minus Marion Cotillard.
After entering through the unmarked side door, you'll find a room with a massive Venetian clock and one thick piece of cypress tree—that's your table for the evening. (It's also the table for up to 11 more people.) Then you'll get their daily menu, fresh from the printer (with that warm paper feel).
Go in tonight, and your options will include the Alaskan halibut and the pig's ear Milanese that John just grabbed from the market (or the Spiceman's store). As the wine flows and you get to know your fellow diners (possibly some opera lovers heading to the Winspear), you'll dig into the
Potato Gnocchi with Short Ribs
, followed by a slice of apple pie made by the chef's wife.
Think of it as an encore.