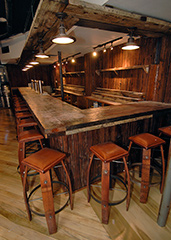 Today's topic: supply and demand. Namely, your insatiable demand for smoked meat, craft brews and bourbon, coupled with the recently increased supply in DC.
We think it's time to buy...
Welcome to
Smoke & Barrel
, a rustic new outpost of that all-American trio (beer, bourbon, BBQ), soft-opening late next week in Adams Morgan.
The location will be familiar. The space was once known as the top floor of Asylum. The players: also familiar, as they own the Columbia Heights beer mecca
Meridian Pint
. But rather than mid-century industrialist, here you'll get mid-century... Amish. Specifically, a rustic room decked with barrels and reclaimed Amish mushroom wood (they use it to cultivate mushrooms, presumably while they listen to "White Rabbit").
You'll take a seat on bar stools made from barrel staves and pick from the 24 draft beers, like Belgian ales and smoked beer from Germany. Which, in turn, will undoubtedly put you in the mood for BBQ from a transplanted Arkansan: Boston butt, racks of ribs, fried green tomatoes and smoked tofu (he must have heard Clinton has gone vegan).
Last up: delving into the list of 60 bourbons, plus ryes and Irish whiskeys. In fact, they plan to have monthly bourbon tastings with experts in the field and food pairings. They call it: Bourbon Story Time.
Bring your bourbon blankie.