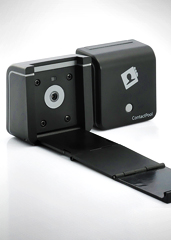 You're a tireless networker. A happy glad-hander. A notorious room-worker.
Your signature move: the double-pump handshake with the friendly pat to the upper arm. Through the years, it's served you well.
Maybe too well... you now have a mountain of collected business cards cluttering your desk.
So we thought we'd bring to your attention the
2MP Mini Business Card Scanner
, which amounts to a pocket-sized photo studio for business cards.
Now the first thing you're wondering: isn't there already an app for that? Yes, several, actually. But you're obviously not impressed with those or you'd be using one (see: desk clutter). Besides, this conforms to your belief in using the right tool for the right job... to wit, your early adoption of the gold-plated toothpaste-tube squeezer.
This little palm-sized wonder has some nifty features, starting with a foldable arm that you can use to position the cards in the precise focal distance. Then, of course, you'll have the ability to import, export and synchronize the data from the card to whatever contact list you use.
In a pinch, you could use this as a webcam—or at least a backup to your webcam. It's so small, you can stick it in your upper breast-pocket without ruining the line of your tuxedo—perfect for your most formal Skype sessions.
Though you may want to take it out of your pocket first.