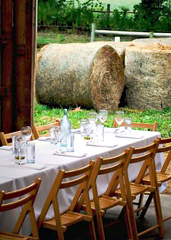 Farms can be awe-inspiring. Take crop circles, for instance. Or when they set up tables and feed you for hours. Twice. Nearby. Within a week of each other. Hence, we're compelled to investigate the
Orange Arrow
dinner on September 24 and the
Outstanding in the Field
dinner on September 29. Farmers' daughters are not guaranteed.

The Masterminds
Orange Arrow:
A celebrated local chef/musician, a farmer with a PhD, a local DJ and a Chinese artist.
Outstanding in the Field:
A group that tours the country in a bus, setting up farm dinners along the way (like the foodie Merry Pranksters). Plus, chefs from Birch & Barley.
Analysis:
While we love buses, we love crazy amalgamations of locals even more.
The Setting
Orange Arrow:
Tables set under a huge, open-air greenhouse on wheels at an organic farm 28 miles from DC.
Outstanding in the Field:
One massively long table set at a nonprofit farm that was once part of George Washington's land (you'll tour the farm first, which is why you arrive at 3pm).
Analysis:
Choose who you sit across from very carefully. And tell everyone you're a Federalist.
The Food
Orange Arrow:
Potatoes dug, sliced and fried into chips on the spot, fried green tomatoes with oysters, wood-fired Cornish hen, sweet potato tart.
Outstanding in the Field:
Still in progress, but we hear you can expect heirloom tomatoes, heirloom pumpkins and a whole roasted pig.
Analysis:
You may have said hello to that chicken on the way in.
The Drinks
Orange Arrow:
Cocktails made with Maryland's own Sloop Betty vodka, wines from New York, Virginia and Washington State.
Outstanding in the Field:
Beer and only beer, mostly rare bottles paired with each course.
Analysis:
Everybody wins.