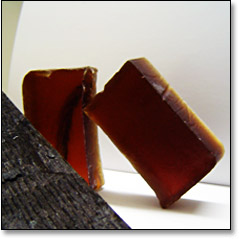 You enjoy a
fine whisky
—especially a nice, aged single-malt Scotch. It goes down so smooth and makes for a great post-work soother.
But until now, you've never thought to lather up with it.
Enter the
Bruichladdich Laddie Bar
, one of nine "distillery soaps" created by a pharmaceutical research chemist-turned-soap-maker from Islay, Scotland.
A product of Bruichladdich Distillery and Spirited Soaps, the handmade Laddie Bar captures the very essence of whisky-making (and call us crazy, but we think it could work as a hangover remedy, in a hair-of-the-dog-meets-Lever 2000 sort of way).
There's even some logic behind it. Alcohol is a major ingredient in soap, so all Bruichladdich did was offer what it had at its fingertips: lots of 10-year-old single-malt. (We could all be so lucky.) Then, taking the process to its logical conclusion, they threw in some oak shavings planed from the inside of a whisky-soaked cask (so keep an eye out for splinters).
But it's not completely a bar of
bar
. Infused with coconut and palm, the soap lathers up nicely, and a dose of vegetable glycerin ensures supreme moisture. It's also packed with vetivert, a grassy essential oil, which leaves you feeling calm and tranquil.
Expect to smell smoky, oak-y and spicy.
And, of course, endlessly intoxicating.