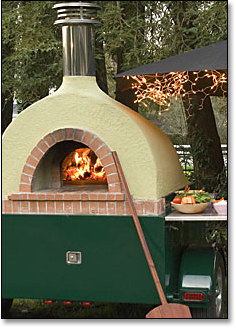 You're no History Channel buff, but you still recognize the strategic advantage of superior firepower during combat. And let's face it, holding the upper hand with your barbecue-loving neighbors is about as close as you're getting to war.
With that in mind, meet our little friend:
Fired Up Chicago
, the nuclear option of summer cookouts.
This two-month-old catering outfit is like your own private pizza army. They'll roll up to your backyard or adjacent alleyway with their tank-like secret weapon: a one-and-a-quarter ton wood-fired pizza oven capable of hitting 900 hell-like degrees.
This Italian-made
forno
turns out crisp pies in a mere 90 seconds, plus steaks, chops…even roasted peach-and-graham-cracker pizza for dessert. Fire It Up chefs do all the poking, prodding and sweating, while you accept all the praise (like a good general).
Just remember to remain patient with your guests. Now that wood-fired pizza has been liberated from the trattoria (their thin-crusts never traveled well), your friends will probably request tasty-yet-pedestrian pizzas like margherita and sausage. Ease them into a new world order, filled with marinated salmon with goat cheese, cherrystone clams, even foie gras pizza.
Actually, better hold off on that last one. They may think you've gone mad with power.