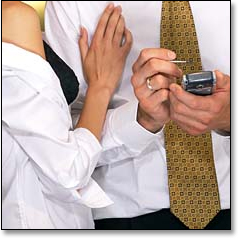 Attention: You are being watched.
But you know that already, since you signed up for
Loopt
, the new mobile application that keeps your friends—and maybe your enemies—under your watchful eye…and vice versa.
Available today on your shiny new iPhone, Loopt acts as a homing device for your voyeuristic band of misfits. By combining GPS, blogging and social networking, everyone in your address book who you choose to let in (be warned: Choose wisely) can see where you are, what you're saying about where you are and how to get where you are. And it's all laid out in
Google Maps
.
But it also works the other way, allowing you to master the art of the accidental run-in ("This is so funny, what a coincidence…"), the science of subtle avoidance and the noble practice of saving a damsel in distress.
And when you want to drop off the grid, simply set yourself to hide mode and go about your business under a cloak of secrecy.
But what's the fun in that.