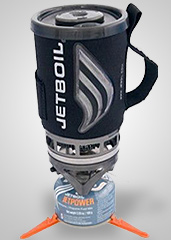 Coffee.
Easily your second most cherished beverage of the day.
So it'd be wrong if a little jaunt to Half Dome left you high and dry.
And why we found a quick and easy solution...
Behold
Jetboil Flash Java Kit
, a super-efficient, portable French-press plunger that brews two cups of coffee in two minutes, available now at Lombardi Sports.
Normally, it would seem like too much of a luxury to consider packing a coffeemaker to go backpacking. But when something that breaks down to the size of a water bottle can save you from chewing on beans, we'd say it's worth the extra 14 ounces.
The trick to its efficiency is in its FluxRing heat exchanger that focuses the burner's heat directly toward the insulated cooking cup. Sort of like how the flux capacitor channeled lightning for time travel—only you'll have coffee and be spared Marty and Doc's shenanigans.
You'll pour in your favorite coffee (ideally, ground for a French press) and add water. You'll know the water's hot once the side indicator turns from black to orange. Then, after roughly a minute of brew time, you can plunge it like you would your French press at home.
From there, allow us to suggest an Irish coffee.