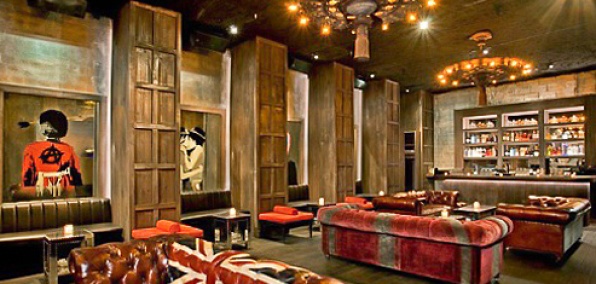 1752: Benjamin Franklin "discovers" electricity. Ruins a perfectly good kite.

1985: The Clapper debuts to a smattering of applause.

2011: An electrical supply closet emerges as a place to see and be seen.

Introducing Electric Room, once an unused subspace beneath the Dream Downtown, now a Britannia-bedecked lounge with one of the harder doors in town, open now for Fashion Week.

Picture yourself inside Mick Jagger's London flat, circa 1965. The high ceilings, metallic bricks, Union Jack sofas and freeloading models. Now picture yourself inside a janitor's storage closet. Now try to combine the two without your head exploding.

To gain entry into this gritty den from the mind behind Rose Bar, you'll want to commit these notes to memory. First, stroll into the Dream like you own the place. Walk straight through the lobby, past the front desk, left into a gallery of Warhol portraits and down a spiral staircase. Now follow signs to the bathroom. You're looking for an unmarked black door. It's not the bathroom.

Inside that door, blue velvet curtains. Past those curtains, a Brit-rock play pad with mirrored tables, graffiti walls and a small central dance floor that you'll occasionally have to share with a few famous faces.

Thankfully, your rendition of the robot takes up very little space.