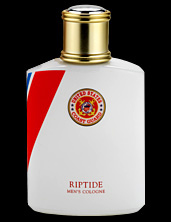 Iceman. Colonel Nathan Jessup. G.I. Jane.
All fine soldiers. And it's likely they smelled great, too.
So naturally, it was only a matter of time before that sweet-yet-rugged bouquet of military mojo was available in liquid form.
Introducing
The American Line
, an array of colognes inspired by (and benefitting) our armed forces, available now.
Think of it as your own personal Eau de West Point. You'll find most arms of the military are represented with their own individual scent: the Coast Guard's seafaring magnetism in
Riptide
(with hints of citrus and the sea), the derring-do of the Marines infused with sandalwood and cedar in
Devil Dog
and the swagger of the Air Force in
Stealth
, emanating basil and suede.
So next time you're hitting your friend's
Hot Shots
–themed luau and want to smell like you've just braved a tour of duty in the bush, all you'll do is dab a bit of the
Patton
on your wrists and walk in wafting a bold blend of sage and cedar.
And, of course, danger.