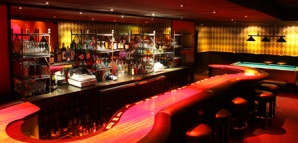 Long meetings, longer commutes on the 101—every Angeleno must endure certain rites of passage.
And then escape them. Which is where
The Fifth
comes in.
Like its sister bar
The Woods
, this one's secreted away in a random strip mall, with a surprisingly classy interior belying its actual location. (Keeping it real—but, you know, not
too
real.)
Think of The Fifth as the kind of gimmick-free place that'll be there for you whenever you need it—it's now open at night, but come Wednesday the doors will be thrown open at noon, with happy-hour prices all the way until 7pm. So it works as a reliable midday escape (they won't mind if you bring in lunch from Cedar House next door), a respite from evening freeway traffic or a classic pool-and-jukebox night catching up with the friends who've absconded to the other side of the hill.
In addition to being the fifth bar in the Vintage Bar Group empire, the name alludes to the quantity of whiskey that'll get you started…and also the amendment to which you might refer when she asks where you were last night.
Not that you have anything to hide.