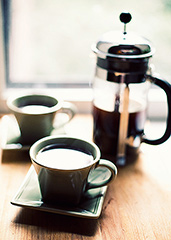 Your weekend started last night.
Always does.
Which means that this morning may or may not have consisted of a cold shower, a quick chat with the Checker Cab dispatcher (your... guest had an 8am conference call) and approximately 16 cups of coffee.
But let's face it, you'd be looking at the back of your eyelids right now if it wasn't for that last part.
All the more reason to upgrade to the good stuff...
Enter
Craft Coffee
, a crack team of coffee geeks (sorry,
aficionados
) who source the rarest beans in the country and drop them off on your doorstep once a month, available online now.
You need coffee more than it needs you. Which is part of the reason why it has no problem playing hard to get. That's where these guys come in.
They've found Ethiopian Heirloom varietals hiding out in Portland. Bolivian Caturra beans playing cat and mouse up in Ithaca. They even came across a be-donkeyed little Colombian man leering around outside your window (he was politely asked to leave).
But all gratuitous Juan Valdez references aside, here's what you'll do. Hop online, pick your grind of choice (whole bean, French press...) and how many months you're interested in. Each month, they'll ship out three four-ounce samples from different roasters around the country, complete with tasting notes and recommended brewing methods for each.
Break the news gently to Señor Valdez.