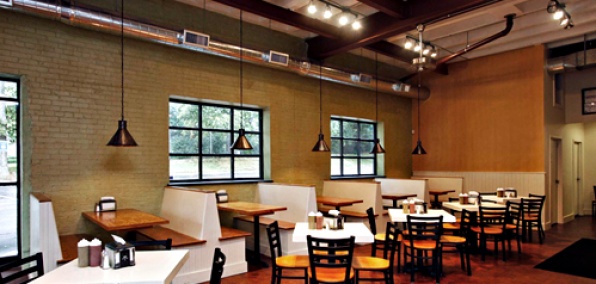 We see big things in your future.
Hint: they're burritos.
We also see a Shetland pony, a bag of paninis and one gold doubloon.
For now, let's just focus on those burritos.
Introducing
Tomatillos
, an uncomplicated new spot that's equally adept at dishing out
sweet-potato-stuffed burritos
at high noon as it is at prepping you for the EAV bar circuit with shrimp quesadillas and housemade guacamole, now open in the East Atlanta Village.
It's simple, this place. But since you don't often venture into East Atlanta expecting champagne-sabering sommeliers and squid-ink margaritas, you'll find the shoe fits quite nicely—green brick walls, exposed ceilings, a few tables, some booths and a kitchen.
If you're on a solo lunch mission, grab a stool by the window facing Glenwood and look to that kitchen for chicken, pulled pork, steak, shrimp or tofu soft tacos filled with anything from sweet potatoes to pickled jalapeños.
The same principles apply should you and your compatriots find yourselves easing in off the sidewalk on your way to the Glenwood across the street. For now, you'll have to make do with bottles of Ting (a Jamaican sparkling grapefruit drink) and Jamaican ginger beer at the bar. The real beer arrives in early October.
That's why the Glenwood's there anyway.