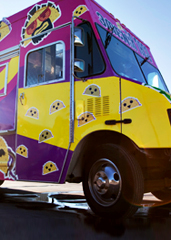 It's time for a quick summer recap... Eastwood-style.
The good: your NBA title celebration at the Loon with J. Kidd.
The bad: 68 days of 100 degrees.
The ugly: see the bad.
But now it's time for fall. And that means one thing, of course: gator tacos.
Meet
3 Men and a Taco
, the first and only taco truck influenced by South African and Ethiopian flavors, now serving in Uptown and Henderson on the weekends.
This thing isn't hard to spot. It's big. It's loud. It's pink. And it's covered with smiling tacos, black lights and fighting ninja roosters. Because nothing says tacos like ninja roosters.
The scene: this weekend around 2am, long after your brat-fueled tailgating. You: in need of a nightcap, preferably one that's wrapped in a tortilla. These guys: track-down-able on
Facebook
. (Tip: they'll probably be outside Idle Rich or the Slip Inn.)
Before you order, you'll want to make a realistic assessment of your spice tolerance. Hot: the gator taco. Hotter:
Beef Goreme
taco—it comes drowning in a spicy feta cheese sauce. Hottest: the
Doro Wat
, chicken mixed with niter kebbeh and berbere. Not at all hot: the
Gatsby Smash
sandwich (fried bologna, curry, fries and ketchup between bread).
F. Scott Fitzgerald loved fried bologna.