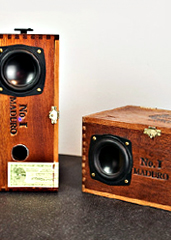 Labor Day is over.
Therefore the time has come to get serious. Life-decision serious. This-could-change-everything-about-your-life serious.
Yes, we're talking about speakers handmade from old cigar boxes.
Presenting
Custom Cedar Cigar Box Powered Speakers
, the coolest example of what you can do with time and a little creativity after finishing a box of smokes, available now online.
If Fidel Castro took a break from doing whatever it is he does on a daily basis in Cuba, peeked inside his special room of discarded cedar cigar boxes, and then looked down at his iPod and said: "Yes," the end result would be something like this.
Forged by an artisan craftsman hailing from our friendly Granite State neighbor to the north, what you're looking at here is a set of eight-inch-tall desktop speakers made from genuine cigar boxes. Think: a two-and-a-half-inch aluminum cone speaker tuned with a three-quarter-inch copper port tube powered by an internal 10-watt amplifier (which is technical mumbo jumbo for saying your treasured Earth, Wind & Fire live album will sound great).
All you'll need to do is plug these into the wall and connect them to your iPod, iPad, laptop or anything using the standard three-and-a-half-millimeter stereo jack, and you'll be making sweet music in no time.
Or spicy music. They were Maduros, after all.