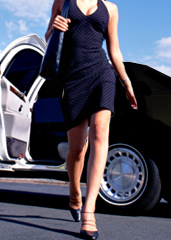 If there's one thing you love in this city, it's the CTA.
At 4am.
When it's raining.
Now if there's one thing you love
more
than even that, we'd probably guess it's having your private car and driver a few clicks away from your location at any given moment.
So some good news on that front: introducing
Uber
, an app that is quietly putting a roving fleet of town cars, SUVs and the occasional Mercedes-Benz at your disposal... beta testing now on the streets of Chicago.
It's kind of like a car service, except it's nothing like a car service—no dispatcher, no cash required, no wondering where your cab is 30 minutes after you called.
You'll register your name, phone number and credit card number with Uber. Then, the next time you need a comfy ride to the airport or, say, find yourself on the desolate end of Randolph Street after a night of exhaustively researching the regional wines of South America, pull out your phone and set a pickup point with a click.
You'll receive a text saying that your car's on its way. You can track the vehicle's progress on a live map—in case you want to duck back inside for another sip of the malbec. When you arrive at your destination, you won't need a credit card or tip money; it's all charged to your account.
Though be warned: the fare to Argentina is really expensive.