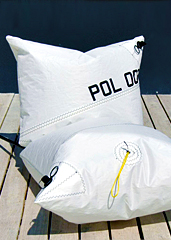 You've done the yacht thing—the gold bikinis, the champagne, the salty breezes. By and large, good times.
So good, in fact, you sometimes want to bring it all home. And then inflate it and sit on it.
Here to address this crucial need: the
Explore Chair
, a collection of inflatable fold-up chairs made from sailcloth, available now.
Now, before you ask—yes, this is the product of a Polish design team. (Poland: practically the Cape Cod of Europe.) And yes, these pieces would look really great at your next Kennedy-style barbecue or that pop-up lounge you've been planning at the marina.
Here's the deal: the chairs are essentially two inflatable pillows mounted on a foldable wire frame. The cushions are made of Dacron sailcloth, the kind of sturdy material that can withstand the toughest weather on the high seas (and presumably, a little cabernet spillage here and there). So depending on how many of these you acquire, you can stash a few on your outdoor patio for alfresco lounging or bring them along to your next tailgating party.
Now all you need is an inflatable grill.