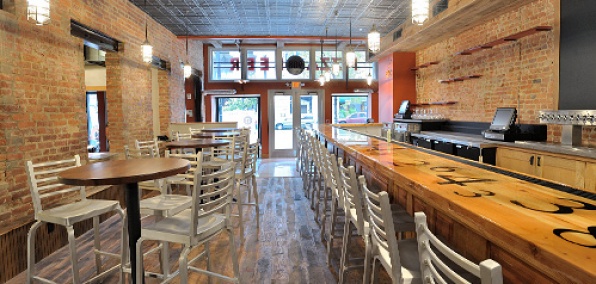 You may have noticed: there's a pizza war going on in this city. It involves who can source the most Italian buffalo mozzarella and artisanal tomatoes, who can import the most accomplished pizzaiolo from Naples.
Which brings us, naturally, to St. Louis.
Get ready to welcome
District of Pi
, a brick-lined cathedral of deep-dish pies from a group of Show-Me State pizza men, opening tomorrow in Penn Quarter.
If all of this sounds familiar, could be because you've grabbed a personal-sized, cornmeal-crusted
Bucktown
pie from
the truck
that this St. Louis–based outfit has been rolling here since February (consider it their popemobile).
But starting this week, you'll walk into the brick-and-mortar space to face a highly polished, 40-foot bar emblazoned with as many digits of pi as they could fit (you'd need a much longer bar to fit them all). And on some days—football days, for instance—you'll stop right here to quaff one of their 24 microbrews on draft while they box up the
Kirkwood
pizza (mozzarella, Italian meatballs) you ordered to go.
But on other days, you'll take a date back into the massive brick dining room, and under a 30-foot atrium ceiling sit on reclaimed church pews to get started on
Pizza Oven Mussels
and garlic bread with a whole head of garlic. From there, you're on to a
pizza showdown
, as you can also experiment with thin-crust pizza.
Or just ask for more garlic.