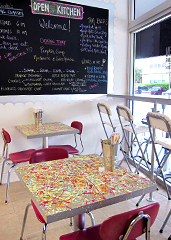 The kitchen.
Typically not part of your pre-seduction routine.
But there's this fiery Italian expat, and she loves to get dirty behind the stove. She also loves to cook.
So you're more than willing to submit yourself to a little culinary exploration at
Open Kitchen
, a new staging ground for wine-soaked pasta feasts and honing your skills as a Tuscan chef, now open in Bay Harbor.
Meet your instructor, chef Sandra Stefani, who used to helm Casa Toscana on the Upper East Side. She's transferred operations to this sunny spot a few blocks from the beach, setting up a small café, market and takeout business (with food that you can heat up back home, like
Tomato-Braised Short Ribs
and roasted chicken).
You'll come here for raucous cooking classes, where you'll learn to knead everything from linguini to wild-boar-stuffed ravioli. The classes always end with a multicourse meal with wine pairings. And once you've become a pappardelle pro (should only take one session), you'll come here to stock up on supplies for entertaining at home—truffle oil, rare Argentine and Italian wines, and dried pasta from Italy.
You can never have too much truffle oil.